This week in my kitchen, I'm purposely spoiling milk... and crossing my fingers that
batch number 2
turns into homemade cultured yogurt. You know, the kind with powerful good gut bacteria.
It all started with empty jelly Mason jars.
Last year
, our family toured southwest Michigan for a day trip and I took a stab at blueberry jam. Well, only one jar remains on the pantry shelf (thanks to steady PB&J lunches), and our out-of-state move put gardening and summer canning on hold until next year. So, what to do with about 12 small empty Mason jars?
Weird kitchen science, you snicker
... Ahem! Yes! As a mom, I am a fan of any nutritious recipe that doesn't require careful timing. Give me yeast and bacteria.
Blog browsing,
this book
was mentioned. It's a gem, and has been added to my Christmas list. In the meantime, I'll willingly hunt it down via the public library.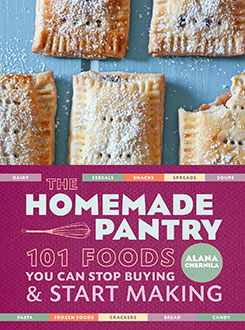 Why batch number 2? Because the Danone Oikos purchased on sale did not have enough live and active cultures, yet the package says it has live cultures. Never again, Danone. I thought the French liked lots of healthy guy bacteria?? After 5 hours, everything was still totally liquid. For batch 2, I'll purchase Mountain High yogurt that has a distant expiration date. These bacteria are at their highest levels within a 4-6 days of culturing.

Why take the time to culture my own yogurt? For cost convenience, health, and earth-friendliness. In Chicagolad, I purchased an ethnic yogurt in large 32oz plastic containers. But it took 2 weeks to eat through, and the live cultures don't live that long. Furthermore, organic yogurt is out of my price range at $0.16/ounce, but organic milk is about $0.05/ounce. Making it in reused containers -- whether plastic or glass -- is better than recycling all those 4-5oz. containers.

So here's hoping that next week's batch 2 will culture correctly. Fingers crossed.